Do you enjoy this classic image of Rita Hayworth as GILDA? It's a capture from  Hayworth's iconic high-end striptease, "Put the Blame on Mame," choreographed by Jack Cole, the brilliant dance maker who rocked Hayworth's world at Columbia Pictures in the 1940s. Cole's dance numbers ("Put the Blame on Mame," "Amado Mio"), taken together, raise GILDA from a pretty good flick to a film-noir classic. Cole, who often coached in unorthodox performance details, contributed Hayworth's tossing of her horse's mane of brunette hair, which she does thrice, to my count, in the movie. Rita Hayworth didn't just "do that," nor did her director, Charles Vidor, wake up one day and decide that Hayworth should bend over and toss her sensual brown locks for effect. Jack Cole did it.
Cole was so much more than a "step man," although in that realm — the actual assembly of movement in the art known as choreography — he ranks right on top. The hair toss is but one example of the kind of physical detail he imparted to the movie stars as early as 1945, as he was an incredibly quick study in the magnetic power of the camera.
The wrongful historic oversight of Cole in American cultural history, it is hoped, will be rectified starting January 20, 2016, in ALL THAT JACK (COLE), a comprehensive film retrospective at The Museum of Modern Art in New York. Eighteen of Cole's movies, GILDA among them, will be screened to the public. It's a first; it is historic. To help you make the transition, I mark in boldface every adjective describing GILDA that is a direct result of Cole's craft in the movie.
Gilda  (1946)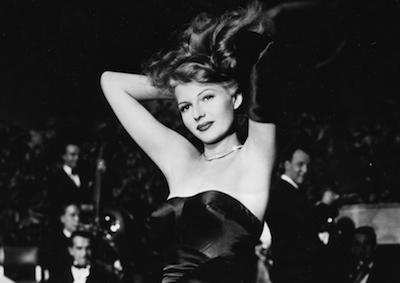 This classic film noir concerns a love triangle in Buenos Aires. Ravishing and ravenous, Gilda is the irresistible love goddess who can't help but make trouble in a man's life. Gilda is married to an international tungsten dealer and casino owner, whose latest employee turns out to be his wife's ex-lover. Sexual passion and international intrigue inevitably combust in this overheated household.
35mm, b/w, 110 min.  Production: Columbia Pictures Corp.  Distribution: Columbia Pictures Corp.  Producer: Virginia Van Upp.  Director: Charles Vidor. Based on a story by A.E. Ellington, adapted by Joe Eisenger.  Screenwriter: Marion Parsonnet.  Cinematographer: Rudolph Maté.  Editor: Charles Nelson. With: Rita Hayworth, Glenn Ford, George Macready, Joseph Calleia, Steven Geray.
Restored by UCLA Film & Television Archive in cooperation with Sony Pictures Entertainment, the Library of Congress and the National Film and Television Archive (U.K.) with funding provided by Sony Pictures Entertainment.
GILDA to be paired with a film directed by Ida Lupino. A good double bill.
The Bigamist  (1953)

Director Ida Lupino's films, like those of her contemporaries Nicholas Ray, Samuel Fuller and Robert Aldrich, deal with the traumatic effects of postwar America settling uneasily into once familiar roles. The Bigamist introduces a traveling salesman with a secret double-life spent between two wives who is exposed when trying to adopt a child. The resulting courtroom drama culminates in a surprisingly open ending.
35mm, b/w, 80 min.  Production: Filmmakers Productions, Inc.  Distribution: Filmmakers Releasing Organization, Inc.  Producer: Collier Young.  Director: Ida Lupino.  Based on a story by Larry Marcus and Lou Schor.  Screenwriter: Collier Young.  Cinematographer: George Diskant.  Editor: Stanford Tischler.  Composer: Leith Stevens.  With: Joan Fontaine, Ida Lupino, Edmund Gwenn, Edmund O'Brien, Kenneth Tobey.
Restored by UCLA Film & Television Archive in cooperation with Republic Pictures with funding provided by The Film Foundation and the Hollywood Foreign Press Association.
Gilda & The Bigamist | UCLA Film & Television Archive | Billy Wilder Theater | Oct 3, 7:30 pm | tickets